Well girls, what a game it was again. Wimbledon did challenge us and pushed us around, which only made us work harder. But it was with a great spirit that we worked hard and made the game ours, and scoring the 5 tries we need to get our well-deserved bonus point win.
It all started pretty well, and after a couple of minutes in the game we were already in Wimbledon's 22m. Hard lines and clever play got our forwards got Fred to identify a tiny gap in their defensive line, and drove over the line with great support from Kaye. Great forwards tekkers. 0-5.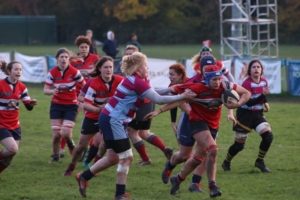 Opening the score line got us in a pretty confident position, we we had a cracking first 20min, with our scrums being super dominant and our strong runners breaking the defensive lines on multiple occasion. Wimbledon came at us pretty hard in that second part of the first half, but struggling to find some space as our line speed was pretty awesome. Their fly-half, acknowledging they weren't going anywhere, went for a little kick and chase over the top of the line, and scored what was a lovely try all things considered. with the conversion, score was now 7-5.
But we were pretty much done with Wimbledon scoring tries. We were back in possession, back in their territory, and another scrum happened. That's when our Kaye decided she's had enough of all that scrummage and casually took the ball to go over the try line, even fooling our flankers who were still pushing when she put the ball down. Great decision making, and back in the game we were. 7-10.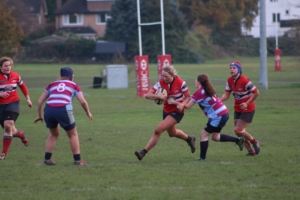 After a kick from Wimbledon trying to find touch, Katherine managed to kept the ball in and turned what could have been the opportunity for them to be back in the game into our own chance to score. Scrum down, beautiful 8 pick-up from Kaye again, who pops it back to Katherine who had the speediest run and scored try number 3.
The following 20min gave us some pretty hard work to do, but our cracking word in defence gave us lots of tu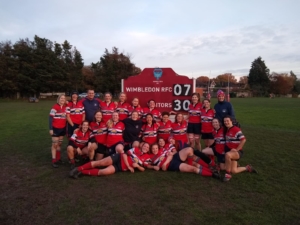 rnovers (thanks Kaye) and Wimbledon couldn't just handle the pressure coming in from those tackles (Dr Alex, Lizzy and Aly I'm looking at you). Using those opportunities at their best, our back line was just on fire and Lizzy got herself one beauty o
f a try to get the score up to 7-20.
Forwards decided to join in in what was a true collective performance, and after a solid defensive effort from John which put their fly-half under pressure, Ham
mers got another quick ball to use, and Charlotte powered through about 3 people to get the score up to 7-25.
Forward of the match went to Kaye for some huge tackles, great turnovers and all-round big performance.And because we love it – we just kept going, showing everyone on the sideline that Hammers can truly play 80min of rugby at their best. In one final effort, Aly literally kangaroo springs out of a tackle to run in a try, making the final score 30-7.
Back of the match went to Lizzie for some great defensive work, one hell of a try and being a real threat on her wing.
https://www.fulhamrugby.co.uk/wp-content/uploads/2019/11/IMG-20191117-WA0045.jpg
1200
1600
Zahael
https://www.fulhamrugby.co.uk/wp-content/uploads/logo-cut-out-268x300-268x300.png
Zahael
2019-11-21 17:52:20
2019-11-21 17:52:20
Hammers ladies 1st XV continue their winning ways