An inspiration to all
STUART
MANGAN
On 5th April 2008 Stuart injured his neck whilst playing fly half for the Club's Second XV in an end of season friendly. As a result of this injury, which is extremely rare, Stuart had no feeling below his neck and was on a ventilator.
Stuart was a remarkable person, who showed outstanding courage and determination in the the face of his injury. His positive attitude to everything that he did and his love of life makes him a credit to his family. Whoever met Stuart, either before or after his injury, could not fail to be impressed by his determination to live life to the full.
Stuart started to suffer from a chest infection on Thursday 6th August 2009 and was admitted to St Mary's Hospital in London. He slipped into a coma and passed away at 7pm on Friday 7th August 2009.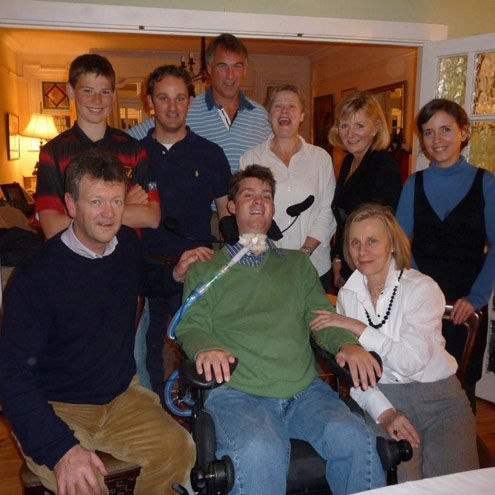 Stuart and the Mangan Family watch the drama unfold during the Six Nations Rugby Match between Ireland and Wales, as Ireland won the Grand Slam for the first time in 61 years
Following memorial masses in London and Dublin, Stuart's funeral took place in Fermoy, his home town, and he was buried in kilcrumper cemetery, Fermoy on Friday 14th August 2009. you can find the BBC Three Documentary about Stuart on YouTube
Here at Hammers Rugby, we all miss Stuart. In tribute to our remarkable and inspirational teammate, since his initial injury the Hammers Vets have been prolific in fundraising in the name of Stuart, and  thanks to their efforts, the annual England vs Ireland Legends game is now and annual featured in the England and Irish Rugby calender, with both sides vying to win the Stuart Mangan Memorial Cup. In recognition of their efforts and the tens of thousands of pounds our Vets have and continue to raise for this most worthy cause, the Old Hams play in the curtain-raiser matches prior to this fantastic game.