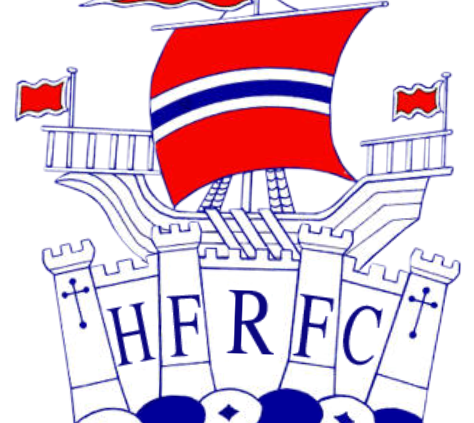 It was a dark cold windy Friday night and instead of attending Christmas parties Hammersmith and Fulham got invited by Rosslyn Park to play a floodlit game which the boys couldn't of been more excited about and to stretch their legs underneath the light with a crowd watching. 
Hammers were looking to bounce back from a couple of defeats and looking to reclaim challenge top spot, with a squad brimming with talent and both head coach Mark and assistant coach Nugget in attendance it was a night we didn't want to let them down. 
H&F started kicked off and had an intent from the off with a big hit on the catcher, it was only a manner of time before hammers secured turnover ball and decided to work the forward up the pitch and before releasing the backs with Tyler running a steamer of a line slicing through Rosslyn Park and combining well with the full back Taylor to score a beautiful opener and the boys started to have a good feeling only for us to muck up the restart giving Rosslyn Park an immediate platform to launch an attack through and sure enough after a couple of phrase they were over in the corner, boys kept there heads up and looking to make amends for the error huge chase from the kick off saw Rosslyn Park pinned down in there half and looking to exit via a box kick which was charged down by Gerard only for him to gather and gentle stroll in under the post to regain the lead. 
After the last kick off we needed to nail this one and exit however a miscommunication lead to two lads running into each other giving away possession and another platform for Rosslyn to attack and Hammers to defend. The hammers d held firm putting in big hits before a scrum on the 5 in which they peeled off and scored from going into half time at 14-14 it was everything to play to in the second half. 
Again the hammer came firing out the block at the second half with lovely phrase play and gaining territory having won a penalty we opted to kick to the corner bold call when your 14-14 but captain cook called it. Louis got the distance with a beautiful nudge into there 22 and then it was down to the forwards to work there magic with a catch and drive line out split Rosslyn Park pack and big Henry went over. 14-21 now. However we started to struggle with the scrums twisting and turning the ref opted for advantage them on this occasion and a quick tap and out wide they went and round us for another sloppy soft try and then boys turned up the heat and Taylor re gathered the kickoff and set the platform for another attack bosses around by Marshall he found the magic ball that allowed Tyler to offer the switch with Taylor for another try and hammer heads were high again and wanting to close this game out. However there were going to be a few more twist and turns before that full time whilst. 
One of them being for locky who made the biggest hit in the game absolute monster of a hit took him up and bought him down in a safe manner however the ref saw different and had to walk for 10 mins huge loss but not the mans fault. Pinned in our 22 and with a huge scrum mr Ralph came onto the flank to support the scrum however props came up and reset and with the scrum and breakdown messy and a penalty give Marshall piped up and the wrong moment and also had to take a breather for 10 mins and wouldn't be returning. Rosslyn opted for the scrum and with the front rows going up again and then going slightly forward the ref had had enough and walked under the posts and a penalty try was awarded gutted hammers were like let's go back at them but with only 13 men it was gunna take something special and with Rosslyn Park tails waging in a game we should have sealed off. 
With only 3 mins left on the clock a silly pen allowed Rosslyn to have a line out on our 22 in which they secured and crashed through the centres with the addition players making a difference to score 36-28 the restart secured by Rosslyn and then a scrum with only  seconds left on the clock scrum they held out and cleared the ball into touch to win. A disappointing result but a great game of rugby under the floodlights. We bounce back next week. 
https://www.fulhamrugby.co.uk/wp-content/uploads/2019/10/Logo-sans-writing.png
531
474
Zahael
https://www.fulhamrugby.co.uk/wp-content/uploads/logo-cut-out-268x300-268x300.png
Zahael
2019-12-23 12:42:21
2019-12-23 13:12:13
Hammers 2nd XV vs Rosslyn Park