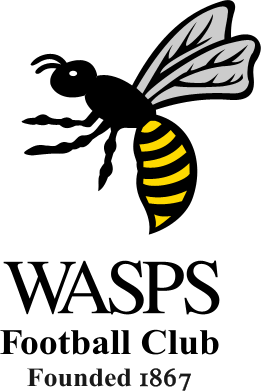 On a brisk Saturday afternoon, the Hammers lads travelled away to Twyford Sports ground to face Wasps 2XV. A game where revenge was sought for the previous home defeat against a strong side. As the boys entered the grounds, harassed to pay an entrance fee (obviously the visible athleticism was going a miss), a noticeably large crowd awaits. Unfortunately for them, they were not there to witness Doug Maxwell's finest Nicola Sturgeon look but the Ladies Premiership match.
Nonetheless, after a vigorous and loud warm up the Hammers' team looked sharp and ready to face their opposition. With the game kicked off and the sun behind our backs, Hammers began to play some superb rugby, sticking to structure and stretching the opposition from touchline to touchline. After several phases, James Mitchell made a strong break through the smaller backline and great support play from Nick Turner resulted in a glorious try. Hammers' increased their grip on the game with a length of the field effort from Matt Stevenson and a well worked try in the corner for George Nellany. Ed Haynes showed nimble footwork to step a number of Wasps' defenders in space equivalent to a phone booth to race away for a try. Matt Stevenson managed another try, created through hard work from the forward pack, carrying hard to get front foot ball. Some crunching hits form Matt Durrant and Jakob Terry to name a few, provided the boys' with great spirit and left Wasps' dazed and clueless as to how to make breaks. Adam Heaps managed a solo effort, dummying his opposing number before rounding the fullback and showing some unexpected wheels. Replacements came a calling just before the sliced orange break with Matt Stevenson making an impressive solo break, only to go down like he had been shot by a sniper
The second half brought about the challenge of playing into a blinding sun and against a challenging wind. Wasps rejuvenated by the half time break managed to string together some promising phases of rugby, even managing to cross the Hammers' line only to have it called held up. Hammers' scramble defence was on full show throughout the early stages of the 2nd half. Unfortunately, a run of successive team penalties and Adam Heaps getting pinged for a high tackle led to the fly half getting put in the sin bin. As Adam went off and take up role of nominated team medic, the rest of the team held firm, riding out the opposition's pressure. Even down to 14, the Hammersmith and Fulham boys managed to run in another 2 tries by Ed Haynes including a great defensive read leading to an intercept and 2 for Jamie Drysdale. Wasps' hampered by a Tyson Fury wannabe (red card) managed to sneak a consolation try to finish the game 62-5.
A great win for the boys in red and thoroughly enjoyable to get one back from earlier in the season. Onto the next week before a well earned Christmas drinking break.
Tries: Nick Turner, Matt Stevenson x2, George Nellany, Adam Heaps, Ed Haynes x3 , Jamie Drysdale x2
Conversions: Steve Danby x 6
Man of the Match: Will Parker
DOD: Adam Heaps
https://www.fulhamrugby.co.uk/wp-content/uploads/2021/12/WaspsFC1867.png
391
261
Zahael
https://www.fulhamrugby.co.uk/wp-content/uploads/logo-cut-out-268x300-268x300.png
Zahael
2021-12-07 10:00:39
2021-12-07 10:00:39
Hammers 4th XV show their class