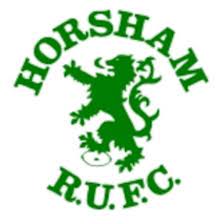 Saturday 4th December. The skies were clear, the temperature was brisk and Hammers boys were frantically brushing their teeth to mask the smell of their work Christmas party from the night before. At the meet, the atmosphere was relaxed. Maybe a little too relaxed as no one had been assigned to pick up the kit.  Nevertheless, the boys got out and executed a great warm up. Talks of the setting being perfect to play our fast and expansive game were in the air. Everyone was feeling good, and the shirts arrived just in time for kick off.
Horsham were our opposition for the day and they'd been in fine form of late. They had been really unlucky to lose a few of their games by only a few points and so were looking to change that. They started strong from the whistle and were looking to secure some points from a lineout on the Hammers 5m line. In steps the master of the line out. Our resident Scottish sensei was already in their heads and intercepted their line out using only his mind (and his go-go gadget arms). Unfortunately, our part time scrum half/full time DOD was not on the same wavelength. His head wanted him to kick from our own try zone, his legs did not, and he dropped the ball for Horsham to pounce on. The try was converted from an impressive kick from the side line and you could hear our Head Coach grinding his teeth.
Hammers needed to bounce back and as a captain should, Joe Carolan lead by example. Horsham looked to kick from their 10m line but could not get the ball over the huge stature of our captain who stands at a huge 5"11 according to his Hinge profile. Some close control with his feet and Joe went over near the posts before slotting his conversion. A few minutes after, Hammers found themselves playing their usual fast free-flowing rugby with the ball going wide to our most capped player J-Lo who used some dancing feet to get on the outside of his winger before executing a perfect chip and chase over the full back. Converted again by our captain.
Even though the score would suggest Hammers were starting to control the game, it would shortly become present that Hammers were being carried by a few individuals.
Mistakes again cost the home team. A misplaced box kick with a poor chase gave Horsham an opportunity to counterattack which they executed and scored near the sticks. With 10 minutes until half time, the opposition scored 2 more tries. One in the forwards from a lineout, the other a breakaway try from their 10m line due to a terrible pass off our own scrum from yours truly. You could see steam coming out of Marks ears. 2 of the 3 conversions were made making the score 26-17 at half time.
After receiving the hairdryer treatment from the coaches and some tactical changes for the team, Hammers started the second half fiercely. Debutant Huw Parks going through a gap on the oppositions 10m that parted like the red sea and scoring under the sticks with Joe converting again. The next 20 minutes saw some good play from both teams that resulted in 2 converted penalties for Horsham but also a yellow card. Even though the comms through the hammers team was to stop giving silly offloads, we continued to give silly offloads and butcher a lot of chances. Not the fast and expansive game we had discussed.
With 10 minutes to go, Joe Carolan stepped up again to lead by example scoring off a good backs move after Angus and Zander had linked up again in the lineout. 32-28 to Horsham with only minutes left.
Some people say that good things come from the unlikeliest sources. Others say that they come in small packages. I think both are applicable here. Now playing at 15 and with his DOD free pint secured, Ben Dugdale decided he wants to help the team secure the win with a try from a well worked backs move that AGAIN came from the forwards dominating their line out. Carolan's 5th and final kick was also slotted making the final score 35-32. A great come back for the Hammers to keep pressure on the top spots. A great couple of bonus points for our opposition too who were unlucky to lose out at the end.
Man of the Match: Joe Carolan
DOD: Ben Dugdale
https://www.fulhamrugby.co.uk/wp-content/uploads/2021/12/download-1.jpg
224
224
Zahael
https://www.fulhamrugby.co.uk/wp-content/uploads/logo-cut-out-268x300-268x300.png
Zahael
2021-12-07 10:38:41
2021-12-07 10:41:17
Hammers 1st XV lucky to get the win against a strong Horsham