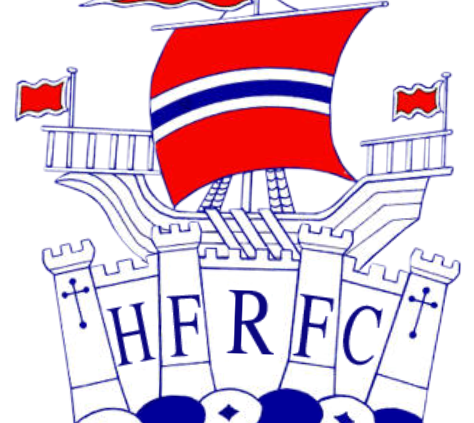 It was Saturday afternoon is South West London and with Storm Dennis brewing to hit the Hammersmith and Fulham boys welcomed Ruislip to fortress Hurlingham, which had been breach two week's before by a Belsize side fielding a higher team never the less the boys were pumped and wanted to make a statement, with the Hammer 1's game cancelled and the Hammer 2's having an early kick off it meant the 3's had quite a crowd to perform against, no pressure now lads. After walking out to a guard of honour from the supporting lads the boys were pumped up and ready to smash some Ruislip lads. Straight from kick off the hammers forwards made a state with a huge twin hit on the receiving Ruislip player. This momentum enable the 3's to steal a quick turn over and a crash ball in the centre and an outrageous blindside call enable the legendary returning George O'hara to stroll over within 2 minutes of the game, up steps Steve Harris to see if he can add the extra two from the sideline but on this occasion didn't quite have the minerals.
Ruislips 130+ kg prop looked like he would be a dangerous ball carrier but this myth after a couple of carries the lads started chopping those ankles instead of going for the bear hug. Hammers second try came from an attempted clearance from Mr Maxwell's boot saying I'll clear our lines with an off the side of the boot spiral kick that only just made our 10 meter line however a fortunate bounce and wheels from Alex Chong Kwan enable him to pip the ball in the air and then run it in from the halfway line to save Ollie Maxwell any blush, this time round Steve Harris had his eye on the prize and slotted it through the middle. 12-0 Hammer's
The Hammers forwards
at this point where starting to dominate and worked our way up the pitch and had a lineout on Ruislip 22m line, a quick ball off the top amd a smart grubber through from Harris allowed the on rushing Ollie Maxwell to slide over and ground the ball, simple rugby execute at the highest order, Harris doesn't make any mistake this time either and converts nicely. 19-0. I heard you ask what about Storm Dennis he was seemingly being kept at bay.
Continuing to push our scrum half looks like a prop, N.Emmett then does a cheeky show and go and strolls over the line right hand side of the pitch, this angle and a big blow from dennis Harris hooks his conversion wide, that concludes the half.
Half Time Score 24-0.
Ruislip came out second half with the wind behind them and wanting to test the Hammers defence how this stood strong and with the Ruislip forward pack starting to tire and there one of runner allowed the hammers boys to easily select their targets however a lack of discipline and a brief blip in concentration allowed Ruislip to maul it over to get what was to be there only points of the game.
Fortunately the 3s are better at scoring tries than maths as a lack in basic counting skills meant we ended up with 16 on the Field for a very brief moment and then down to 14. In the ensuing confusion that was definitely due to no fault of his own Irwin left the pitch and got caught out with a buffalo on a tinny before being ordered back onto the field, seconds after downing the can.
The Hammers wanted to put right this mistaken score with the lads making ground down the pitch and ending up camping up on Ruislip's 5m line with the scrums so dominate and walking them forward getting penalty after penalty captain cook asked about the penalty try but wasn't needed as another scrum walked forward and a pop to Emmett to dived over for his second try of the game. Again the hammers secured the kick off and launched a quick counter attack and made some serious yards and with a 4-1 big man Tom  decided to go himself and bundled over to score the final points of the game but the questionable decision to back himself rather than using the 4 on 1 option to finish a great game in horrible conditions.
The final Score Hammers ran out 36 – 7 winners against Ruislip.
https://www.fulhamrugby.co.uk/wp-content/uploads/2019/10/Logo-sans-writing.png
531
474
Zahael
https://www.fulhamrugby.co.uk/wp-content/uploads/logo-cut-out-268x300-268x300.png
Zahael
2020-02-21 12:17:14
2020-02-21 12:17:14
Hammers 3rd XV turn it up for a big win!