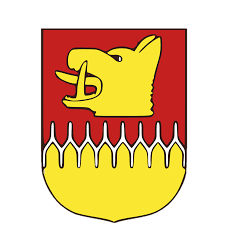 This was no weather to be outside and some would have rather spent this Saturday watching Netflix. The temperature was close to freezing, the rain was lashing the faces and the wind was blowing the flags off the pitch. It was rumoured that some Hammers, despite being on the team sheet, had preferred to stay at home in the warmth, fortunately others were called up at the last minute and rallied to the hammers cause.
With condensation on their Movember moustaches, the Hammers 3s were ready to defend the fortress Hurlingham. Starting the game into the terrible wind of storm Arwen and despite some valiant kicking, it was almost impossible for us to get out of our half. The conditions were difficult for both teams: poor passing, lots of knock-ons. But no excuses, the weather is the same for both teams, it's winter rugby after all. Hampstead used the wind to keep the Hammers penned in and scored a try (after a fortunate bounce on a kick after sustained pressure on strong defence) and pressed the advantage using the wind to seal a couple of penalties. We were behind at the break, without having scored a single point.
Half Time Hammers 0 – Hampstead 16
In the second half we had the wind with us and with the help of some good touches, a solid scrum and some good mauls, we gradually started to gain the ascendancy. The main turning point of the game came when Ed Hayes had a break through running halfway to the edge of Hampstead's 22 popping it from the floor for the team captain (in a rare spate of running for a front row forward) to go over and get us on the board. It put the fight back in the lads and the real hammers heart came through. The next try came from a hammers lineout on the opposition 5 with the maul going over with Nick Turner putting it down topping off a great day for the front row. The pressure was then on and a good use of the boot kept the lads down in Hampstead's half. Eventually Hampstead had to relent to that pressure resulting in Ben England going over in a convertible position, which Steve Danby stepped up to the plate and slotted.
Hammers 17 – Hampstead 16 less than ten minutes to go the tension was cutting.
From the kick off we returned the ball to Hampstead's  22 well and kept it there to ground out a 1 point victory. Got there in the end and the teams place at the top of the league continues, the Lads retired to the Wolf pack to escape the weather and for well fought for Beers at the Hammers Charity night.
https://www.fulhamrugby.co.uk/wp-content/uploads/2021/12/download.png
225
225
Zahael
https://www.fulhamrugby.co.uk/wp-content/uploads/logo-cut-out-268x300-268x300.png
Zahael
2021-12-07 09:52:52
2021-12-07 09:52:52
Hammers 3rd XV squeeze past a tough Hampstead