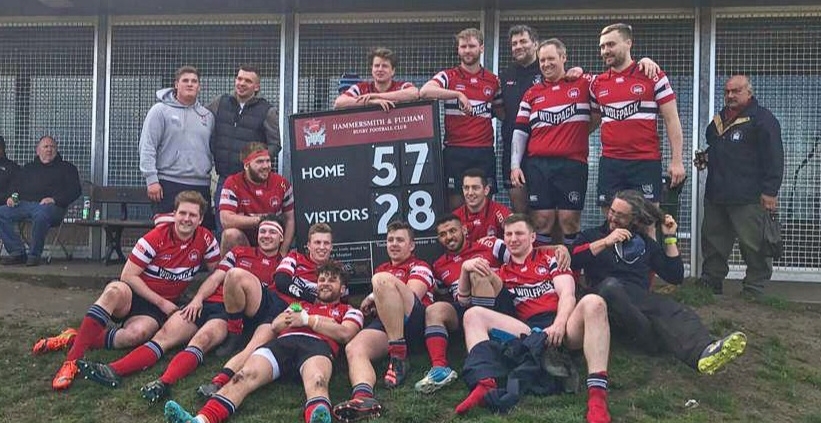 On a cold but bright Saturday morning Hammers 2nd XV assembled at Hurlingham Park early, after a lot of players being taped together, Hammers launched their bid to make finals day and know Rosslyn Park out of the competition.
In front of an eager crowd, we received the kick-off, managed to apply plenty of pressure with a solid attacking phase and win a penalty. This was supposed to be sent up the pitch and into touch, however landed in the hands of the opposition fullback. After winning possession back a short while later a second penalty kick failed to make touch, this lead to dick of the day, Max Dugdale, being sacked as the kicker. The pressure from Hammers was starting to tell however, and finally we broke the defense with Ricky Drewitt crossing the line for his first of three. Rosslyn Park came back at Hammers with plenty of enthusiasm and the first half was played out as a tight contest that Hammers just had the edge going into half time.
After a rousing team talk by coach Alan 'Nugget' Jones which consisted of telling us to be better, the second half was started well with two answered tries in quick succession, but again Rosslyn Park weren't done and fought their way back into the game but Hammers proved to classy in the end closing the game out with a final flurry of tries, special mention has to go to the forwards for a try off a lineout maul started outside the 22 and was moving at a pace some of the pack would normally struggle to achieve in open play. Also, the attacking prowess of Ed Hayes to sidestep pretty much the entire Rosslyn Park team, starting in one 5-meter channel and ending in the other and Man of the Match Emile Binse for demonstrating some of the flair the French are renown for and make some scything runs through the defensive line. Another mention for Max Dugdale sealing his DOD award by managing to miss the conversions you would expect him to get and slotting the more challenging effortlessly.
Try Scorers:  Ricky Drewitt x3, Ed Hayes x2, Rufus Falkner-Lee, George Nellany, Dermot Wallace, Emile Binse
Conversions: Max Dugdale x 6
MoM: Emile Binse
DoD: Max Dugdale
https://www.fulhamrugby.co.uk/wp-content/uploads/2022/04/IMG-20220402-WA0021.jpg
570
821
Zahael
https://www.fulhamrugby.co.uk/wp-content/uploads/logo-cut-out-268x300-268x300.png
Zahael
2022-04-12 12:13:51
2022-04-12 12:14:47
Hammers 2nd XV to play in the final!