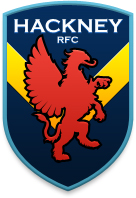 As league newcomers this season, none of us knew quite what to expect of a 'home-based' Hackney squad. Despite the entire 1st XV having to wake at the crack of dawn to travel beyond South West London (the horror) we arrived in East London to pleasantly discover that the grass could indeed be greener or at least softer outside of Fortress Hurlingham. The sun was out, the wind was low and Coach Andy wasn't wearing shorts during the warm up. Already, we knew that today was going to be vastly different from the previous week's match.
With the London Referee Society saving arguably the best referee we've had til the end of the season, Hammers infringements at the breakdown didn't go unpunished and we spent the first 5 minutes backpedalling towards our tryline due to consistent penalties. With Hackney 5m away from a score, Hammers defence fully engaged and forced the turnover, allowing us to clear our lines and regain some control.
Hard carries from the forwards suckered in the oppo at one side of the pitch, giving Sirri the chance to spin the ball out wide. Deft hands from the backs safely delivered it out to Sasha on the wing. There was still a lot of ground to make up, but she made light work of this by goose-stepping her way around Hackney, across the pitch and over into the corner for a try. Game on.
Following a well-handled restart, the backs lit up the pitch with fine lines, accuracy and pace in attack. This led to Jess C smashing through the line, handing off several people in the face and powering through tackles to score near the posts. Support? Didn't need it mate.
Chloe J added the extras and off we went again.
Hard work from everyone in defence forced a knock on for a Hammers scrum. The technical prowess of Hackney's tight 5 meant that all scrums felt very much like we were running up a steep mountain in flip-flops.
Despite this, we secured the ball for as long as was needed to get quick ball out. Clever looping play got it towards the wing again, allowing Sasha to make another break. Tackled just metres short, a strong support line meant that Sophie T was perfectly placed to take the offload and dot down our third of the day.
With Hackney's restart kick not quite making 10m we had a brief Mexican stand-off where neither side wanted to touch the ball. Time stood still. The crowd went silent. We all got a little more sunburnt. Fortunately for this match report, Hackney capitulated by touching the ball, allowing us to opt for a scrum on the halfway. Joy.
The brief rest clearly did everyone some good as we held the scrum and got the ball out, allowing Chloe E to run a clear straight line down the wing for our fourth. Boom.
HT score 22-0
It was great to be ahead but as the coaches noted, 40 mins is a long time in rugby. Nothing could be taken for granted. Time to kick things up a gear and secure the win.
With Hammers pressuring the Hackney attack, strong defensive work on the edges gave us a lineout just beyond the halfway line.
Ball secured, Sirri sent a well-aimed pass out to Tappers who smashed through the first defenders before popping off to Kaye who ran through the broken defensive line to score our fifth. Chloe J added the extras once again.
Good pressure from Lucy D from a Hackney lineout forced errors in open play. Another Tappers turnover got the ball out through the hands to Sasha for our sixth. Conversion nailed again by Chloe J
A break from the speedy Hackney winger got her deep into our half, but strong defence forced a knock on and a Hammers scrum on our 22. With the scrum moving backwards, Kaye momentarily forgot where she was on the pitch and picked and went. Through some miracle, tackles were evaded and following the slowest 100m dash in history, she crossed the line for our 7th try. Chloe J added the extras.
Securing the restart, the ball got to Tappers who (again) selflessly offloaded a cracking ball to fresh-off-the-bench Bukky who had a clear line to run in and score.
Chloe J got her points haul into double digits with another conversion.
With 10 mins to go, a beautiful catch from fullback Alex W had her weaving and dummying through the Hackney half. Drawing defenders in, she offloaded to Lily B who sprinted the final metres to score our ninth try of the day.
The closing minutes of the game saw a strong defensive effort as Hackney had no less than SEVEN attempts to get points on the board. We mauled, we rucked, Eve even threw her entire body under three Hackney players to stop a score. Final big effort from Tappers again who not only ripped the ball, but ran it almost 5 metres away from the line so we could safely kick into touch and end the game.
FT score 55-0
FOTM was Tappers for her try assists and superhuman defensive effort
BOTM was Sirri for her clever control of the backline and great decision-making
Tries x 9
Bukky x 1
Chloe E x 1
Jess C x 1
Kaye x 2
Lily x 1
Sasha x 2
Sophie T x 1
Conversions x 5
Chloe J x 5
https://www.fulhamrugby.co.uk/wp-content/uploads/2022/04/HRFC_Logo.jpg
198
136
Zahael
https://www.fulhamrugby.co.uk/wp-content/uploads/logo-cut-out-268x300-268x300.png
Zahael
2022-04-12 11:31:38
2022-04-12 11:31:38
Big win for the might Hammers ladies 1st XV!