And So…… after huge amounts of sustained pressure, lobbying, and Supa 5s contests at Hammersmith Town Hall, Hammersmith and Fulham Council realised that they in fact loved having heavily blazer clad Jack Whitehall wannabees on their side-lines and it was time for Hammers to run out for the first time this season at Fortress Hurlingham. Fortunately, the fixture gods had been in kind and the visitors for the first 2s league game were in fact Hackney following the clubs' respective first teams drawing in East London the previous week. This was excellent news for the Hackney Lads as one had heard that they too loved the Blazer Bantaaaarrr and were only too keen to get down to share tales of tour medals and chundaaaarr on the side-line.
Unfortunately, the only blazer spotted by the author was not one of the Hammers variety and worn by a man resembling a young Gerard Depardieu than the League of Their Own resident comic that so many of the Hammers have idolised over the years. That said, the man in question was heard to be propositioning a lady outside Maremoto at 3AM the following morning with the promise of Cheese and Wine at his Fulham flat should she wish to return with him. She wasn't hungry.
And so, Hammers got the game underway with the words of stand-in skipper McClean ringing in their ears…… 'They've not come down here to mess about boys and they're not just going to roll over!'
What followed was a spectacle of free flowing rugby, some say the likes of which Hurlingham has not seen since the days of an Alleyne/Walters halfback combination, and telegrams. Hammers looked to get into shape quickly, similar to many boys after their initial Bronco tests, and began going to work on making inroads into the Hackney defence. There was a lot of hard yakka for the Hammers early doors but eventually pressure told with Huw Bowen going over on the right win in the first minute. Warner converted and then the floodgates opened.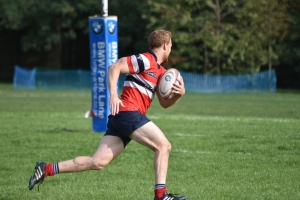 A first half followed where Hammers continued to run in tries from everywhere, much to the dismay of the Home Crowd, and so Bomdhat, Basher and Del had a nap, and Billy Rylance continued drinking. 7 more tries followed from all over the park scored with Warner, Gee, Panter (2), Murray and Goldberg (2) all going over, Warner converted 6 of them to make the score 52-0 at the break.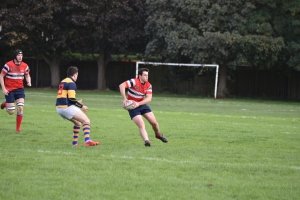 At half time the mood was buoyant, but with some of the lads looking like they'd run 4 broncos in the blistering SW6 sun, changes were made in order for Hammers to keep up the pace after the break.
This they did, and the boys were quickly into their stride in the 2nd period. Straight off the bench, Jordon Abbot crossed first following a superb pop off the floor by teacher's pet McClean. Rumours are he celebrated later that weekend with a marathon 4 hour Sunday session of the popular children's game 'Bop-it'. We look forward to seeing the fruits of his labour once more in training this week.
More changes were rung and James Darrall came on…. gave away a pen….. protested his innocence and was marched 10 meters. Impact.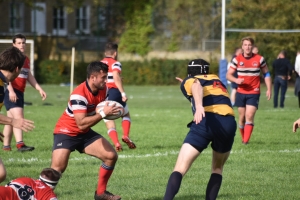 Fox crossed next, having cut a line just as he cut's lads' lunches, followed by 2nd tries for Gee and Bowen shortly after, before Shepppard, playing in his more suited position of full back, trundled in from the 40 metres. Panter, Bowen and Gee all then completed hat-tricks. I think it would be fair to say that with the line at his mercy for his third Alex Gee had at least 29 other blokes on the pitch trying to tackle him yet persistence prevailed. Word is he was later overheard in the Durrell stating 'Hammers…..completed it mate' #stayhumble
Coach Dunseath entered the field of play to ring some changes in the back line. He was still on the field of play when the ball was launched into the air from the Hackney restart, but scampered off with a rabbit in headlights urgency, just as the ball was collected by the hammers pack. Fox to 10, Warner to 11 and another change somewhere else….. maybe. It seemed to work which is a testament to the amount of work the lads have put in in pre-season from a chaos point of view. Or it might have been that Hackney a lot of points down.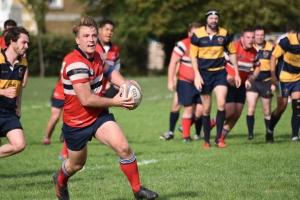 Alex Warner collected his 2nd off a well worked move from the back of a scrum and a perfectly timed, sumptuous pass into his path from whomever had the ball prior to him. Panter converted excellently from the side-line as Warner handed over the kicking duties….. might be a while before he gets them back.
There was still time for Jordon Abbott to be involved in possibly the most polite held up decision in Rugby History after he explained 'he really wasn't too fussed' in a fairly patronising matter of fact way. This was not taken lightly by Skips and was punished accordingly later in the afternoon, however it was on this note that the final whistle blew, the Three Stoodges awoke and Hammers were victors with handsome points difference to start the campaign.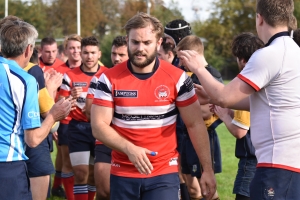 Credit where credit is due, Hackney at no point rolled over (to Josh's delight) and kept playing right through to the end without deliberately turning the game into a scrap. Hammers can expect a much tough test later in the season when they travel to Springhill for the return leg.
A good day's work from Hammers overall, and although the game was one sided, the boys stuck true to structure and pattern throughout and got some good metres under the belt. We look forward to a big week into a full programme of league games this weekend. Training no doubt will bring some hard graft and news of anyone who served any cheese and wine.
A great way to start the ball rolling at Hurlingham this season and a 'Great Day to be a Hammer!'.
2nd XV Vs Hackney
Rob Johnston

Phil Lord

Joe Darwood

Zander Stephen

Josh McLean ©

Ultan Bruton

Ash Mitchell

Tim Murray

Dave Buchanan

Alex Warner

Alex Gee

Rob Fox

Dave Panter

Huw Bowen

Jack Goldberg
James Darrall

Tim Williams

Jordan Abbott

Ed Clark

Sam Sheppard
Tries: Bowen x 3, Warner x 2, Gee x 3, Panter x 3, Murray, Goldberg x 3, Abbott, Fox, Sheppard
Cons: Warner x 14, Panter x 1
https://www.fulhamrugby.co.uk/wp-content/uploads/2018/09/DSC_0060.jpg
1080
1620
mattbaddeley
https://www.fulhamrugby.co.uk/wp-content/uploads/logo-cut-out-268x300-268x300.png
mattbaddeley
2018-09-18 16:01:48
2018-10-02 18:59:05
Hammers 2 v Hackney – Match Report