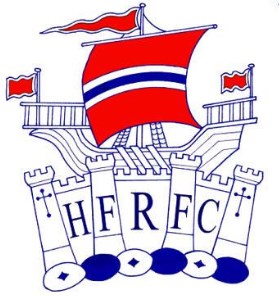 Someone's '0' has got to go. Fortunately for the boys in red it wasn't us, as the team remains unbeaten, after a well-deserved 13-5 victory.
The boys arrived at the Wasps' ground to the sight of the opposition already warming up, and with their 1s not having a game it looked as if a few ringers had been roped in.
The first half was dominated by resolute defence from both sides, Wasps taking the lead 5-0 at half time. This could have been so different if self-proclaimed 'heart beat' of the team – James Mitchell – wasn't deemed to have thrown a forward pass to Dan Serfontein. The referee was 30 metres behind the play but due to many of their players screaming at him he blew up.
Half time proved to be the turning point as the Red Wall stayed strong, typified by Paul and Jamie in the centres tackling anything in a black shirt, and a monumental performance from radio Dj Scott Mills all around the park.
After some good phase play sucked in defenders, Draper snuck over the white line in the corner. Draper showing he can sniff a try out on a regular basis.
Stephen and Harry continued to keep the scoreboard ticking over, Wasps were strangled out the game from then on in…this was until after 5 minutes on the pitch I decided to inform the referee of an offside player stood where our 10 should have been, thus resulting in a yellow card (for back-chat) and a lovely free pint as Dick of the Day. Regardless of this the 14 lads on the pitch dug in, and repelled phase after phase from the Wasps in our 22, grinding out the win.
MoM – Scott Mills
MoM – Paul Davies
DoD – Jack Mitchell
https://www.fulhamrugby.co.uk/wp-content/uploads/2019/10/logo.jpg
296
279
Zahael
https://www.fulhamrugby.co.uk/wp-content/uploads/logo-cut-out-268x300-268x300.png
Zahael
2019-11-13 15:55:18
2019-11-13 15:55:18
Wasps Amateurs 2s vs Hammersmith and Fulham IVs.