The auld Middlesex enemy. 2nd vs 3rd. A local derby that requires little introduction. After a 23-23 draw in the first meeting, all those concerned knew the return leg was going to be a cracker.
With badboy Will Smith (shoulder) and Ben Hatton (stress fracture of the heart </3) being the only injuries of note, the hammers team entered the game not only buoyed with confidence and momentum from the 2 wins to start January, but also with a modicum of consistence.
From the kick off the Hammers men looked good, some structured phase play saw the big boys carry hard throwing down a marker and showing what was going to be on the menu for the next 80mins. Starter: get run over. Main course: get run round. Dessert: joué and ice cream. Big carries saw Steve John and Angus Lean breaking through tackles at will, propelling the men in red into the opposition 22. The doctors were putting on a clinic in one out running.
Once in the 22 some big boy phases sucked in the Chiswick defence. Quick ball to Joel at 10 who fed Taylor Williams on a beautiful inside line and sent him under the sticks to break the deadlock. A lovely slice of meat pie to christen the new electric blue boots. Alex Hart was heard to have said: 'I could have done that, I might try that.' Stay tuned…
The commanding start showed no signs of letting up and now the backs were also invited to the party, James Lo – fresh off the back of a massive leg session in the gym – was carving up the Chiswick midfield like an expensive south west London Sunday roast. A slick back line move saw JLo execute a 2 on 1 and deliver a try on a plate. However, despite Georgian winger – Alex Geeiwishihadavisa – breaking his try duck last weekend, he decided to try and catch this pass with his bicep much to the dismay of the now capacity crowd in the Hurlingham Park stadia. This was not a sign of things to come.
Give him 5 to catch his breath. Rinse and repeat. This time a 2 handed catch, step back inside, sit the opposite man, back to the outside, gas (yes, really), airborne for the gram, try in the corner. Joel 'the static' Caravan stepped up and slotted the conversion for the touchline (yes, really).
HT 17-0.
The message at half time was a simple one. Same again, tidy up some scraps and don't do anything silly. Naturally, from kick off we took the player out in the air. This wasn't Taylors fault, his news boots are lighter than his old pair so he was able to jump higher than he expected.
With a brief stoppage in play linguistic specialist Alex Hart took an opportunity to showcase his mastery of the English language: 'Boy's it's A to B to C then D.' Not wrong Alex, not wrong at all. His £100 an hour tuition with Poulton clearly working wonders.
Both teams started the second half in furious fashion. Some big collisions and solid hard nose defence really started to set the tone with the ball being trapped in the middle of the park. It was going to take something special to unlock either team. I mean something really special, like absolutely dripping in joué special. Step forward, fullback winger centre stand- off scrum half second row… and captain Hammer himself. A forward pod set, a lovely tip from Zac 'CHOPHIM' Halliday. Ball Transfer, a big ol' 'get off' to a dishevelled Chiswick 7, and now we are off to the races. With a good 30 meters under his belt McClean had built up the head of steam required to bosh the 15 into 7s season. However the second row (again, can't stress that enough) opted for plan B: seed of the season. A floated15/20/25 meter pass (distance of pass varies depending on person asked) out in front of the onrushing Jlo. Try time baby.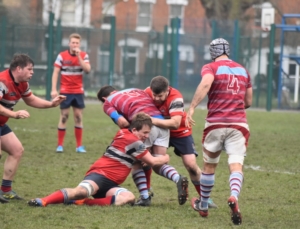 At this point, there was blood in the water, and the front row sharks could smell it. With a scrum on halfway, they decided to stop playing with their food. Rogan put his many (many) years of experience to good use and took his 6'8 prop for a walk. Shrill blast of the whistle, nicely done. Now deep in the Chiswick half, another solid scrum, another solid platform. The skinny boys went blind and for the second time in 2 weeks, a winger tried to remove Taylors head from his shoulders. Get him walking, slice of cheddar, 10 in the bin of repent. With the resulting penalty, Joel moved the forwards 5 out. A solid lineout and off to work from the big fellas. Questions were asked, no answers were given. Lean, the man to deliver the final blow and scored whilst taking 2 defenders over the line with him. Bonus point bagged.
This slap in the face energized a fading Chiswick side who dug deep and showed why they are so dangerous. Post restart the men in maroon went deep into the Hammers 22. Prolonged pressure, but the Hammers held firm chasing the donut. Resolute defence from Lachy (top-knot) and Cillian (People's Republic of Putney) really keeping the men from W4 in check. Hammersmith needed fresh impetuous and energy to match that of Chiswick. Enter Mitch Mitchell Mitchellson IV, like his father ,his father before him, his father before him, and his father before him. 40 seconds later? Exit stage left for a 10 minute seat on the naughty step for MMM IV for a cynical ball kill on the line. It's at this point that MMM's sobriety was once again dramatically thrown into question. A quick tap and back to the grind, a few phases then a hero ball over the top and Chiswick were in in the corner.
Chiswick were having a good 5 minutes and with the man advantage worked back into the 22. Some faltering lineouts and scrappy ball for the away side, however McClean was deemed the cause. The charge? Offside at the maul. The consequence? Yellow. Down to 13 it was backs to the wall for time for the Hammer men. Grinding rugby ensued. The red men were able to hold out well and drain the clock before Chiswick bumped over. A try. 29-12. With bodies everywhere and men down, physio Matt was working hard. It's at this point that Steven John took the opportunity to very calmly and eloquently remind Matt that he is – in fact – a doctor and that he would – in fact – be playing on.
Down to 13, captain and club captain off, Hammersmith needed some strong words. Self-appointed stand in – Jacob 'his holy pintness' Poulton – was on hand. 'Do your job'. Short and sweet, like Purv.  Lesser teams and lesser men could have folded at this point, gone to pieces like a jigsaw in the box. But when you are raised in a clay bog, fitness flogged on a Tuesday and terrified of a big blue dice you don't lie down, you don't quit.
Do your job. Joel Caravan dropping the kick off on a dime. Do your job. Taylor Williams up like a Scottish salmon for the reclaim. Controlled pace and phases for the outnumbered Hammers. Alex Hart one off runner, Chiswick defender braced for another big impact, delicate ball back inside to Williams. Quick bump, under the sticks, thanks for coming (to after match awards). The tide had turned. Alex Hart, a man of chronic time management but the delicate hands of an angel (this statement is corroborated by AGE UK).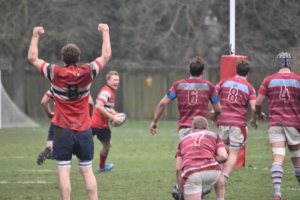 With the final minutes ebbing away into the last play of the game Hammersmith kept the foot hard down. Another slick backs move and another 2 on1 executed by Lo, resulting in another airborne try in the corner for Alex Geesushestoobig. Champagne  rugby on a buckfast budget.  41-12. A thoroughly well-deserved win, a jubilant home crowd and Chiswick send homewards tae think again. A big win teeing up well earned pints.
After the match, coach Jackson had this to say: 'I've got nothing to say, that was excellent'. Rogan later added: 'It's good to be good.'
3/3 and 15/15, operation January is complete. It means nothing and we go again on Tuesday with Ian.
MOM: Angus Lean
TIN: Mitchell Lewis
Happy Burns Night and Chinese new year to Xander!
https://www.fulhamrugby.co.uk/wp-content/uploads/2020/01/IMG_20200125_173748_862.jpg
983
1304
Zahael
https://www.fulhamrugby.co.uk/wp-content/uploads/logo-cut-out-268x300-268x300.png
Zahael
2020-01-28 16:19:09
2020-01-28 16:25:12
Hammers emerge victorious in local derby