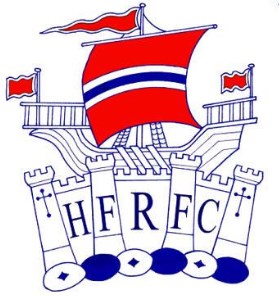 The Hammersmith and Fulham 2's welcomed Belsize 2's to the fortress that was Hurlingham Park for what was a top-of-the-table clash and in which no home team this season had been beaten on a cold wet british day.
The Hammer boys got out the blocks quite early and made good territory into the Belsize half retaining possession and working the phrases but were met with a solid well drilled defensive line and due to the weather conditions and line speed balls started being dropped which meant it was going to be a forward driven game with good old scrum to reset. The Hammers scrum had Belsize walking back to the changing rooms and with that we opted to kick to the corner for a line out.
Having managed to secure the ball we let's the back try to punch holes and find a way through before a knock on and losing the ball. Belsize opted to clear there lines which then started a game of Ariel ping pong before the ball eventually found touch. Hammers started working the phrases again and got to Belsize 10m line before winning a penalty in which a certain Frenchman stepped up to slot home to take a deserved 3-0 lead.
After the restart Belsize pressures the hammers attack hard resulting in a turnover ball and worked a man over lap to score in the corner, with the conversion missed and the ref deciding that was enough for the half. Half time score 3-5 Belsize.
The Hammers cam out second half with all guns blazing knowing that they were still well in the game and it was there for the taking against top of the table however things just didn't click for the hammers with Belsize putting a good few phrases together before going over in the corner for there second try and the Belsize kicker stepping up to the plate to slot home a beautiful kick 3-12, with only 10 minutes left to play the hammer boys put a good couple of phrases together and made some good ground before letting our winger loose who ran round the outside of there winger and under the post for then a great kick from the 9 to convert and bring the score to 10-12 with only 3 minutes left the boys fancied a last minute winner next job was to secure the ball and reset and win a penalty anywhere inside there half however we lost the kick off and Belsize parked the bus and Hammer boys couldn't do anything else.
Final Score 10-12
https://www.fulhamrugby.co.uk/wp-content/uploads/2019/10/logo.jpg
296
279
Zahael
https://www.fulhamrugby.co.uk/wp-content/uploads/logo-cut-out-268x300-268x300.png
Zahael
2019-11-19 17:12:10
2019-11-19 17:12:40
Hammers 2s vs Belsize 2s