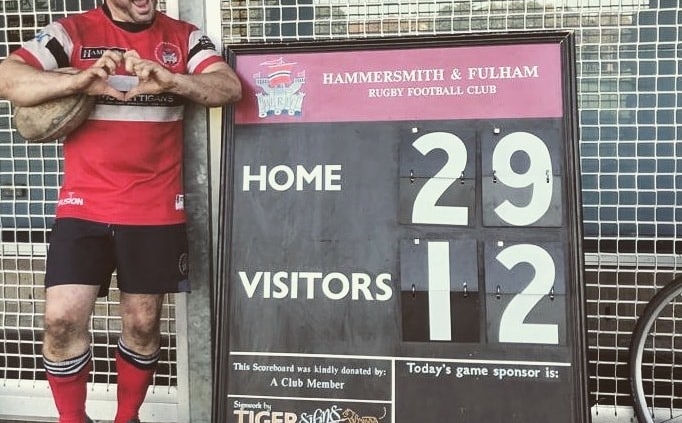 Stumbling out the Rylston many pints (of water) down the Hammers headed to Hurlingham Park inspired to show why we would have been playing in the world cup ourselves if it weren't for the teenage rugby injuries that cut all our pro careers short.
A poor turn out of tins for the post game celebrations was a bad start to the day, not improved much when Coach 'Loves Cowboys' Mark gave us responsibility for the warm up, only to realise how clueless we were and renege on that idea 5 minutes in. Things could only get better, and they would have to, as all Coach wanted after two back to back draws was a clean 5 pointer.
With Josh 'Leader Legend' Mclean enjoying some R&R on the sideline, Rogan 'The Human Hinge' took on the mantle of rallying the boys to the cause, avoiding the use of dumb statements about spiders completely. It was Rogan's reminder that this was the last time we would have to assuage Alex 'Supersize' Gee's delusions of speed that the hype got real, leading to a motivated team hitting the park.
As the match kicked off it became clear that Letchworth hadn't received the memo about our clean 5 pointer and decided to make a game of it. Some hard-fought phases of possession for both sides followed, with the early stalemate eventually being broken by a Joe 'Sweet Caroline' Carolan penalty kick.
Having got the scoreboard going Hammers continued to apply pressure, with patience and well executed forward plays setting up a good platform for Joe to add to his tally, stepping inside a rushed defence and touching down under the posts for a try and a conversion, setting the score at 10 – 0 with 25 on the clock.
Before the party could get started Letchworth hit back, pinning the Hammers down five metres from our own line for an aggressive session of scrummaging. The scrummaging went on for way too long, eventually being broken up when the ref partook in some ball on ball action. With the resumption of play Sam 'Vahaamahina' White swiftly got sent off for 10 on the naughty step following yet another scrum (Some say he was guilty of simply wanting it too much, some say his desire and aggression got the better of him, some say he was high, some say he simply let Swaino down.). Finally the scrummaging stopped, but at the cost of a try as the Letchworth backs executed a first phase line break 10 metres out, rounding off the half with a conversion.
Half-time score Hammers 10, Letchworth 7.
With all to play for, 1 man still sitting out trying to work out why he got a yellow, and the clean 5 pointer clearly at risk, the second half got under way to a tense hush amongst the Hurlingham faithful. A few more minutes of 14 on 15 rugby happened, before Alex 'Probably the best Alex' Hart got released by Carolan down the 15m channel, executing with sublime grace and swiftness a 'Hart-Stopping' show and go, draw and give combo straight out of Mark's dreams to put Taylor 'Oh wait I'm fine' Williams in for a much-needed try (unconverted).
Even more rugby happened, and the game started to get loose as both sides' attacks started to open up tired defences. Letchworth ultimately broke back with a nice try off a good line break and supporting runs, bringing the game back to within a score at 15 – 12. Letchworth still didn't let up, and tested Hammers further, eventually going for a penalty to level the game.
Catching a break as the penalty missed its mark, the Hammers showed strong resolve to take back the momentum of the game, making good attacks and pressing deep into the opposition's half. With strong Letchworth defence nevertheless persisting, it took a beautiful lofted miss pass to unlock it, unnervingly caught and touched down by James 'Vice' Lo on the wing to bring the score to 22 – 12 with a great Carolan conversion.
With time running out for a fourth try the Hammers kept up the attacking intent, an inspired Sam 'Definitely wishes he was Swaino' White made amends and put Taylor through a gap in the Letchworth midfield. Taylor 'yellow's my favourite colour' Williams did the rest, channelling his inner Beauden to chip over the cover defence before collecting the bounce and dotting down for the bonus-point try (converted).
The last few minutes got more expansive than anyone wanted as Rogan did his best impression of a 15 covering deep in the back field, leaving no one in doubt as to why he belongs in the front row. Letchworth kept on keeping on however, testing us until the end when a marginal forward pass denied them a well worked consolation try. Final whistle blown, final score 29 – 12, a good game all round, cheers to Letchworth.
With the 5 points in the bank pushing Hammers to 4th in the league the ritual sounds of super fives could be heard across Fulham long into the night. Long live Hammers.
https://www.fulhamrugby.co.uk/wp-content/uploads/2019/10/73079176_3763319457027221_2933431327086608384_n-e1571841264958.jpg
412
585
Zahael
https://www.fulhamrugby.co.uk/wp-content/uploads/logo-cut-out-268x300-268x300.png
Zahael
2019-10-23 15:31:23
2019-10-23 15:36:02
Hammers 1s get the win and the bonus point!