We use the RFU's Game Management System (GMS) for all our membership and player registration admin.
Youth players must be signed up through the RFU game management system (GMS). All youth accounts must be created in the name of a lead adult. If you do not already have a GMS account, you will need to create one for yourself and add your child/children. Simply click GMS button below to create an account or log in.
A player's GMS account will form their rugby record for life and will follow them through through playing career and on into senior rugby, whether they remain with H&F RFC or relocate to another club, so it is important that all details are kept up to date. All data is retained and managed by the RFU in accordance with strict GDPR and safeguarding guidelines.
Joining as a youth member is a four stage process. Please follow all steps carefully.
Use the link below to create an account for yourself as a parent or guardian within GMS or to log into your existing GMS account
You will probably already have a GMS account if you have played rugby either at H&F or another club and been a registered player, or if you have any coaching qualifications. This may have been set up for you by a previous club. If you try to create an account and find that you already have one but don't know the login details, please do not try to create a duplicate account. Contact us at youthadmin@fulhamrugby.co.uk
When you have finished setting up your account and verified your email, you will have your own GMS dashboard page from where you can add other family members.
1. Add the youth player as a family member
Click "+Add" to add a youth player. If you have more than one child, please add them all at this stage, providing the information requested. Any youth players you add will appear under "Friends & Family" and your dashboard screen will look like this…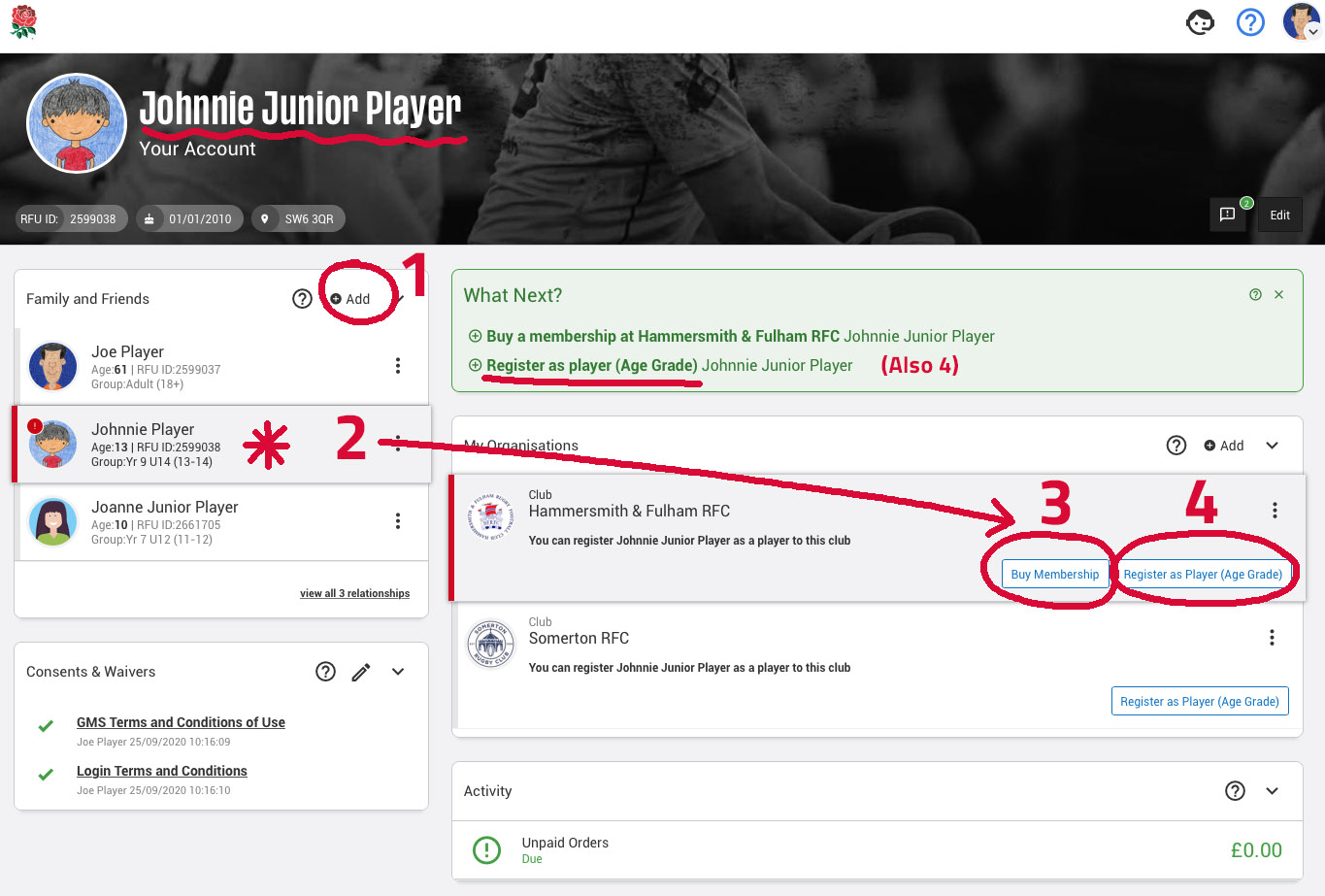 2. Switch to child's account

Click on your child's name under "Family and Friends" to access their account details.
3. Purchase Membership
Buy the appropriate membership by clicking on the youth player's name under "Family and Friends" on your GMS dashboard and then selecting "Buy Membership". This will offer you all memberships appropriate to the age and gender. Simply add the membership you require to your basket (and, if you would like to, make a donation to the club to help us maintain our excellent standards, by adding the £10 donation to your basket!) Then click on your basket (top right) and proceed to payment.
4. Request RFU Registration
All youth members must also be registered to the club. This is not the same as membership, it is an RFU requirement. Without this, they are not permitted to participate in club activity. To request registration, select the youth player under "Friends and Family" and click "Register as Player" link (next to the purchase membership button, and also in the green box at the top). You will be asked to provide emergency contact details, any relevant medical or dietary information and consents.
It is vital that you follow step 4 since players are not permitted to participate in any club activity unless they are registered as a player.