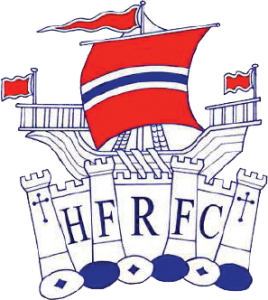 On a sunny day of what has been an ever ending summer, and a slightly longer commute than
planned, the 4s arrived at Twickenham, the home town of English rugby. Despite being squeezed
into the smallest changing room most had ever seen, spirit was high! Some late reinforcement from
the 2s had been provided. The opposition had conceded defeat when they heard Crampy and his
boys had trashed Hackney and Kilburn back to back.
The warm up, led by Captain Will, looked slick and the lads were up for battle after some BOPP and
pod drills. 15min before kick-off, a late arrival by Dominic Woodfine concluded the team runs and
the 4s were ready. Twickenham decided to add a late twist to the game and requested for the scrum
to be uncontested. Our bemused captain had just found that Hammersmith were starting with a 14
points lead.
Twickenham kicked off the game but the Hammers applied pressure straight away. It was a strong
start with some powerful running from the forwards. In no time, H&F opened the score after a well-worked
try by Tim McNaughton. Slade duly converted, 0- 21 for H&F.
Twickenham restarted and applied pressure at the breakdown almost immediately. After earning a
penalty for not releasing, their full back kicked it into the corner. Despite holding up in defence,
Hammersmith kept conceiving penalties at the ruck. Debutant Alex Peers received a yellow card for
H&F consecutive infringements. Twickenham was quick to score their first try through the middle
from a strong run by their back row. H&F was pinned into their 22s for most of the first half from
excellent kicks by the opposition back 3. Twickenham finished strong with two further tries before
half time. 17-21
After a pep talk by Will Finn on structure and the breakdown issues, H&F added some fresh legs.
Dominic Woodfine went to scrum half, pushing Simon O'Sullivan onto the wing and Declan Food
jumped into the second row. It wasn't long before H&F got back into their rhythm again. Within
5min Chad Buchner powered through Twickenham's defence with the help of few hammers 17-28.
Crampy took the restart, but after running 10m went to the floor in pain with what looked a very
serious injury. The 2s captain will be dully missed by H&F for the next few months. He was replaced
by Bob Davies. H&F lost their concentration and quickly conceded another well worked try by
Twickenham, through some quick phase play. 23-28.
The restart was much better by H&F by using Dominic wonder boot. Hammers forwards got back
possession and were able to get some strong carries. They ended up with a scrum close to their 22
line. With a well-executed Saints move, Chris Ralph left Twickenham centre frozen by his dazzling
pace. 23-33. Hammers tried to get Nick Powell and Seb Money on the pitch but Twickenham coach
was being extremely difficult and un-sportsmanlike as he did not allow more than 3 subs.
Twickenham regathered and continue to put pressure on H&F back 3 with another well placed kick.
Max Dubois at 15 let the ball roll and touched down for what he thought was a 22 drop out, not
realising he had touched down in the 22, the ball was still in play… Despite re-enforcement from
Charlie McCarthy, H&F was quickly turned over and Twickenham scored 25-33. Pressure kept coming
from Twickenham and soon they passed the white line twice after some sleek running from their
back line, 37.33.
H&F was able to get back into Twickenham's half after some big carries by the forwards. Hammers
applied from strong pressure but handed up losing the ball in a line out. Twickenham kicked the ball
into touch and the whistle blew for full time. Final score 37-33.
The hammers will feel they let that one slip away but credit is due to Twickenham who applied
constant pressure with some intelligent kicking. H&F was not able to get their hands on the ball and
did not play enough in the opposition 22. Exit will need to be worked on at training.
MoM: Chad Buchner despite requesting repeatedly to be substituted during the second half.
Tin Man: Max Dubois for losing his mental compass.
Tries:
Tim McNaughton
Chad Buchner
Chris Ralph
Conversion:
Slade Buchner x1
https://www.fulhamrugby.co.uk/wp-content/uploads/logo-cut-out-268x300.png
300
268
mattbaddeley
https://www.fulhamrugby.co.uk/wp-content/uploads/logo-cut-out-268x300-268x300.png
mattbaddeley
2018-10-02 18:56:31
2018-10-02 18:56:31
Hammers 4s v Twickenham